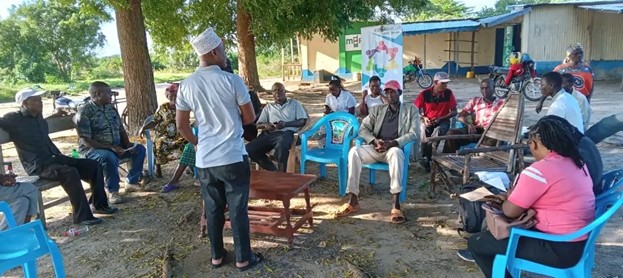 |
|
Lamu Women Empowerment Forum Drives Positive Change in Hindi Ward!
Date: 11-11-2023
In a remarkable display of unity and empowerment, the Lamu Women Empowerment Forum recently conducted a series of impact activities in the Kauthara and Mkunguni regions on October 9th and 10th, 2023. This initiative, supported by Search for Common Ground under the "Kwa Pamoja Tuuzuie Balaa" Project, is making significant strides toward strengthening and empowering local communities.

The Lamu Women Empowerment Forum's efforts were bolstered by the active participation of 22 resilient women and 15 dedicated men. Together, they are working tirelessly to create positive change and uplift their communities under the activities stated below.

Engaging Discussions: sessions delved deep into crucial topics, including the Lamu County Action Plan on Preventing and Countering Violent Extremism (P/CVE). Participants engaged in insightful discussions about the vital role of grassroots women and benefited from practical capacity-building workshops.

Real Stories, Real Impact: One of the most inspiring aspects of these activities was the sharing of success stories and case studies. These narratives illustrated the profound impact that grassroots women are having in countering violent extremism and transforming their communities for the better.

Hands-on Training: Interactive workshops were a focal point, equipping participants with essential skills. These included community mobilization techniques, conflict resolution strategies, and advocacy skills, empowering them to drive change effectively.

Voicing Concerns:The open forum provided an invaluable platform for women to share their challenges, concerns, and innovative ideas regarding P/CVE efforts. Collaboratively, participants brainstormed powerful solutions to address these issues, fostering a sense of community and solidarity.

The Lamu Women Empowerment Forum's dedication and unwavering commitment to empowering local communities in the Hindi Ward are exemplified by these successful activities. Their partnership with Search for Common Ground and the "Kwa Pamoja Tuuzuie Balaa" Project continues to be a beacon of hope for a more resilient and united Lamu County.

As this initiative gains momentum, it is evident that the Lamu Women Empowerment Forum is not only shaping a brighter future for the region but also setting an example for community empowerment and collaborative efforts in countering violent extremism. With determination and dedication, they are proving that unity and grassroots action are powerful tools for positive change.